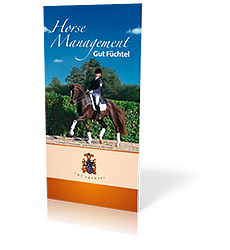 We are providing our knowhow to you about breeding, training and keeping of high quality dressage horses. At our farm Gut Füchtel you find an experienced team that cares and keeps your horses "like its own". From the first consulting about a stallion or mare of your choice to insemination until pregnancy and birth of the foal we offer you our help and guidance.
We help you to develope training schedules that are made exactly for your horse. A specialised team starts the horses careful at the lunge line and under saddle. We take great care that the young dressage prospects learns to work supple with a swinging back in good and willing contact between hand and mouth. Submissiveness and obedience only gives you a good feeling even on a young horse.
Our horse management takes care of physical and psycholgical welfare of your horse as they grow up in a natural environment with lot of "horsemanship". If you have any question we would appreciate to help you!