Aktuelles
News from Gut Füchtel.
Monday, 16 March 2015
• News from Gut Füchtel.
The first foals are on the ground 2015!
Details
We have the first foals 2015 on the ground and now springtime can really start! First was a black filly by "Floriscount" from our new State Premium mare "De la Croix" by Detroit - Sandro Hit.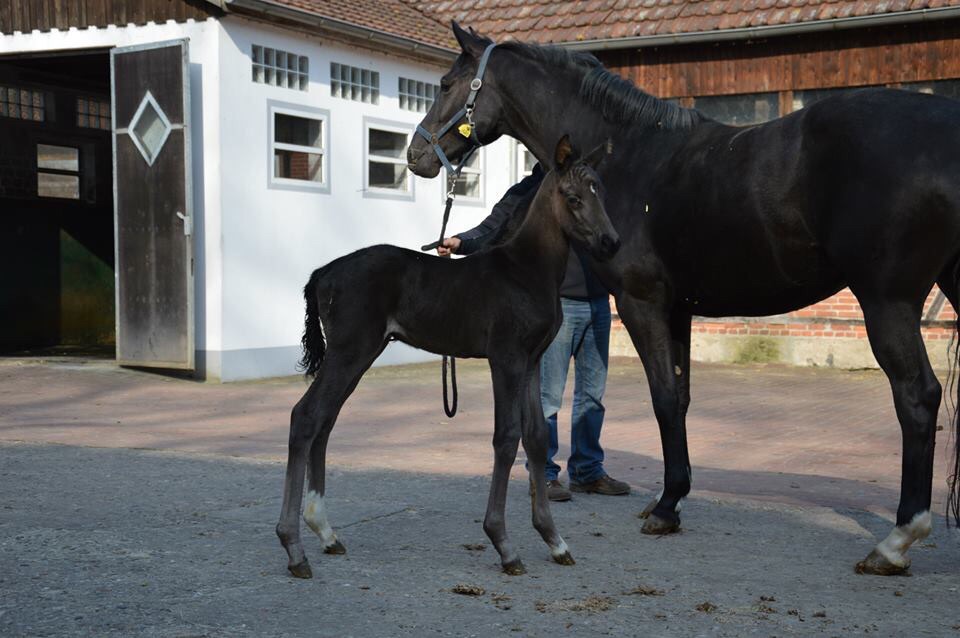 What a awesome filly,black with a beautiful sweet face and long legs she shows already great gaits with just a few days. See her here with just five days.
The second one is a chestnut colt one day later by "Follow Me" and our Elite and SP mare "Rochelle" by Dimaggio - Lord Liberty G. This leggy and beautiful colt seems to get the beauty from his father and the perfect hindlegs activity from the mother line. We are very pleased with both and will forward some more pictures as soon as possible.
Thursday, 29 January 2015
• News about "Floriscount"
See "Füchtels Floriscount" at Verden live or with clip-my-horse TV!
Details
The first time after his great victory at Frankfurt Burgpokal finals you can see our "Floriscount" tomorrow on Friday evening 7 pm (Jan. 30th) in Verden at the stallion show of the Lower Saxony State Stud Celle! Watch his great appearance under Oliver Oelrich and if you cannot be thee you may see it live at "clip-my-horse-TV" at home.
We would appreaciate to meet you there and hope you enjoy it!
Sunday, 18 January 2015
• News from Gut Füchtel.
The new stallion show season starts soon...
Details
Very soon the first stallion shows all over Germany will take place. We will be part of it first time at Verden on January 30th where the Celle State Stud shows its collection of stallions for this season.
First time a son of "Floriscount" will be part of it! "Floris Prince" by Floriscount - Prince Thatch - Weltmeyer did one of Germanys best 70 day performance tests and is part of the big show that you may be able to follow at Clip my horse TV. more about Floris Prince here!
His father "Füchtels Floriscount" will be there too first time after his great victory at the Fankfurt Burgpokal finals! We hope to meet you there too! His next presentation will be at the Böckmann stallion show at Vechta on February 14th 2015.
Thursday, 01 January 2015
• News from Gut Füchtel.
Happy New Year !!
Details
We wish all our friends and clients all over the world a wonderful, healthy and happy New Year 2015!! Let us say thank you for your warm words, greetings and support during the last year. We hope to meet you here again very soon at Gut Fuechtel, Vechta, Germany.
Yours sincerely Andrea and Clemens Merveldt
Sunday, 21 December 2014
• News about "Floriscount"
"Fuechtels Floriscount OLD" rocks the Frankfurt Burgpokal final 2014!
Details
It was an incredible year and the show at Frankfurt was unbeatable for everyone with Floriscount and Oliver Oelrich at the final of the Burgpokal 2014! Only the 15 winners of the qualifications all over Germany were allowed to start at Frankfurt!
His incredible appearance, his great suppleness and super gaits made him second in the warm up on fryday morning with just 0,1 percent less than Isabell Werth and Emilio. He was the one to beat in the final round on saturday everyone was sure.
But Matthias Alexander Rath as second starter had a top show getting 74,5 percent with his Samba King. Füchtels Floriscount began great, still improving from the day before but then had a little mistake in the pirouettes in his really engaged show. Even though everything else was just perfect he received only 72,97 per cent but this was the "silver medal" and rank two in the final!! A great success for an "amazing, or just really a world class horse!", this was the comment of Christof Hess.
In the Winning round of the Burg Pokal final as Kur to Music he showed this to all spectators: Incredible appearance, sensational gaits made the crowd shout out their enthusiasm for a brilliant achievement with standing ovations. He got an incredible score of 90 percent and was the undoubtable winner!
It was an unbeliveable moment seeing him there in the ceremony standing absolutely still and looking around in the arena! We are so proud and happy about this success.
Now we prepare him for the breeding season and will show him next time in his first Grand Prix in 2015! Have a good new year everyone!
---
We warmly welcome you at our new website Gut Füchtel! We are pleased to give you information around our horse breeding and training business as well as the Café & Bistro Gut Füchtel and the new established Guesthouse Gut Füchtel. You find some information about the history as well as about the team and of course we try to let you be part of the "news"! Enjoy yourself!
Gut Füchtel 2
49377 Vechta
Tel. +49 4441 921571
Fax +49 4441 921572
This email address is being protected from spambots. You need JavaScript enabled to view it.