Aktuelles
News from Gut Füchtel.
Thursday, 13 April 2017
• News from Gut Füchtel.
Foals are on the ground!!
Details
The first foals are born and we are so pleased. The last days were very busy starting with our Elite mare "De la Croix" by Detroit, she got an outstanding chestnut colt by Floriscount on April 7th. Elite mare "Relaunch" by San Amour-Don Schufro, mother of last years OLdenburg dressage champion mare "Reagan" brought us a wonderful filly by Floriscount on April 8th. On April 10th in the early morning we got two foals! First was the embryo foal of our new Main Premium mare "High Heels" by Damon Hill with Floriscount. See her here with her wonderful recipient mare Gutajah. Next was our Elite mare "Rochelle" by Dimaggio. She got a colt by Vitalis the same day in the late evening. Four foals in three days! Just an amazing time we have.....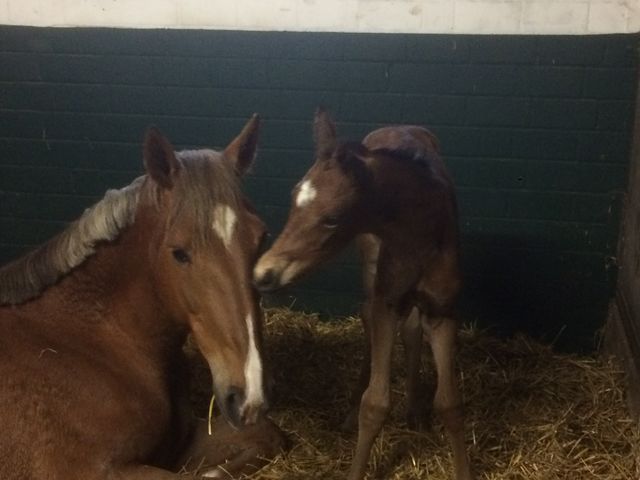 Sunday, 01 January 2017
• News from Gut Füchtel.
Thank you for 2016 and all our best wishes for the new year 2017 !!
Details
After a busy and successful year 2016 with many great and of course some sad things happening we want to say thank you to all our friends, employees, clients and visitors from all over the world. We wish you a peacefull and satisfactory, a happy and healthy new year 2017!
From our Cafe Gut Füchtel, from our Guesthouses and of course from our horse business here at Gut Füchtel we are keen to see what this new year will bring and we all expect you to be with us once again!
Monday, 14 November 2016
• News from Gut Füchtel.
The magic of chrismas at Gut Füchtel on 1st weekend of Advent!
Details
Advent begins four weeks before Christmas and this year we will start this season with an event on November 26th and 27th here at our yard at Gut Füchtel. Inside the historic site we are preparing a Chrismas market and exhibition that brings the magic of christmas feeling to all visitors with hand made art and craft as well as music and literature. Enjoy a wonderful time on Saturday 26th from 2 pm until late night and on Sunday 27th from 11 am to 5 pm.
We are pleased to meet you here! Here is our German Flyer!
Tuesday, 21 June 2016
• News from Gut Füchtel.
Our new Guesthouse Gut Welpe is ready and available!
Details
After a six month renovation and construction period we are now pleased to announce that our new "Guesthouse Gut Welpe" is ready for booking in! Situated at Gut Welpe, two kilometers (1,5 miles) away from our base Gut Füchtel we have rebuild this cosy and individual house with 5 super comfortable apartments for rent.
Every Apartment has a city name that shows his style. They have one or two double sleeping rooms each and a nice living room with kitchenette. Near to the city of Vechta, only a few minutes from the Oldenburg Auction Center or the University of Vechta this lovely place invites you to relax in a environment that you can hardly find anywhere else. The 18-hole golf course of the "Vechta-Welpe Golf Club" is right in front and the lovely Gut Welpe Restaurant called "Holla die Waldfee" will offer you breakfast, lunch and dinner or beer tastings or just really good daily home made cake and whatever more you like.
Come over, see and live here! Additional information and pictures you find soon at this website under "guesthouses"!
Friday, 03 June 2016
• News about "Floriscount"
"Rey du Sol" successful at his first show 2016!!
Details
Right away our young stallion "Rey du Sol" was successful at his first show. He won his first level dressage test with impeccable 84 % and impressed spectators and judges with his great presence and groundcovering gaits! We are very happy about this success! Congratulation to his owner Cristina Khamidoulin in Spain too!! Breeders can still use him with chilled semen at Ludwig Kathmann stud until end of July.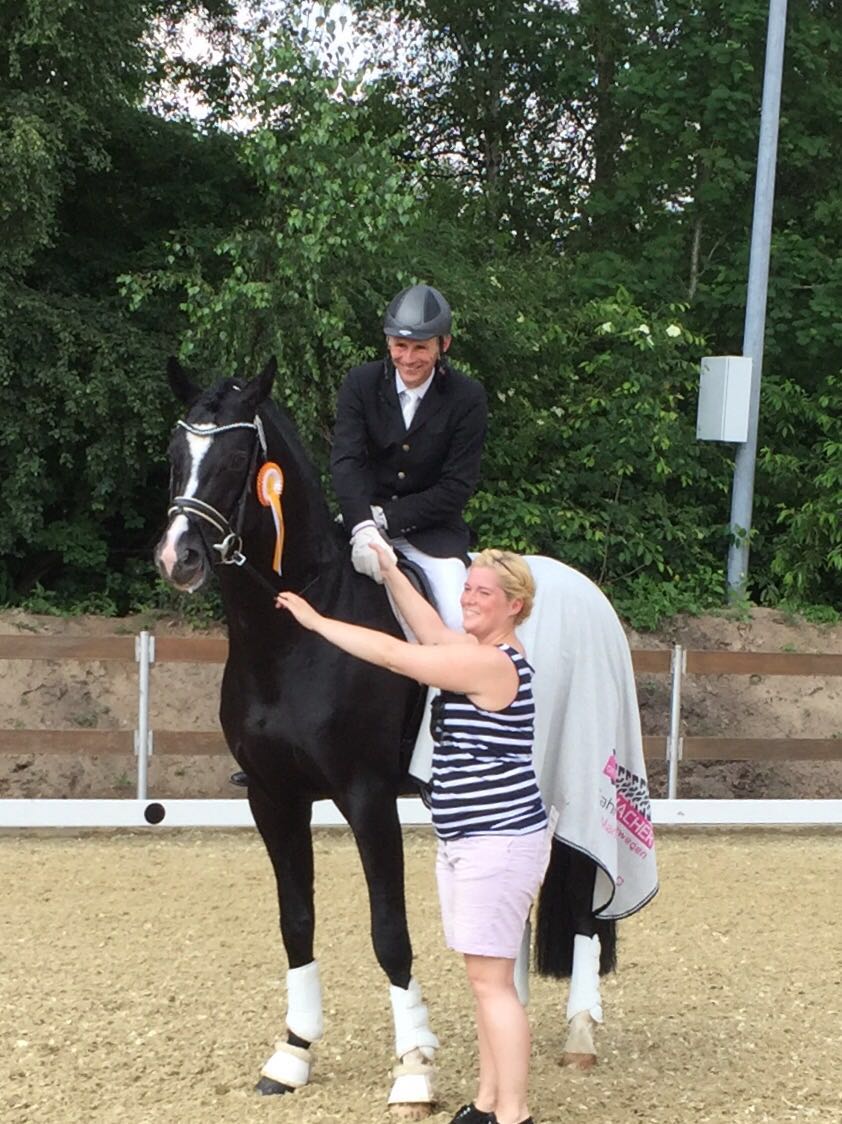 ---
We warmly welcome you at our new website Gut Füchtel! We are pleased to give you information around our horse breeding and training business as well as the Café & Bistro Gut Füchtel and the new established Guesthouse Gut Füchtel. You find some information about the history as well as about the team and of course we try to let you be part of the "news"! Enjoy yourself!
Gut Füchtel 2
49377 Vechta
Tel. +49 4441 921571
Fax +49 4441 921572
This email address is being protected from spambots. You need JavaScript enabled to view it.