Aktuelles
News from Gut Füchtel.
Thursday, 09 April 2020
• News from Gut Füchtel.
New video clip of Füchtels Floriscunt OLD
Details
As we cannot show our offsprings nor the stallion Floriscount live to you at this special time, we have created a new video clip for you right to Easter holiday. Please enjoy and take care of yourself and your loved ones! Stay home! Füchtels Floriscount OLD 2020
Tuesday, 31 December 2019
• News from Gut Füchtel.
Happy New Year!!!
Details
We wish all our friends and clients all over the world all the best and want to say "thank you" for your interest in trust during the last year. We hope we stay in touch and you'll come back and visit us again in 2020!
All our best wishes, health and luck at home and in the stables wherever you are. Take care and feel warmly welcome at any time again at Gut Füchtel!!!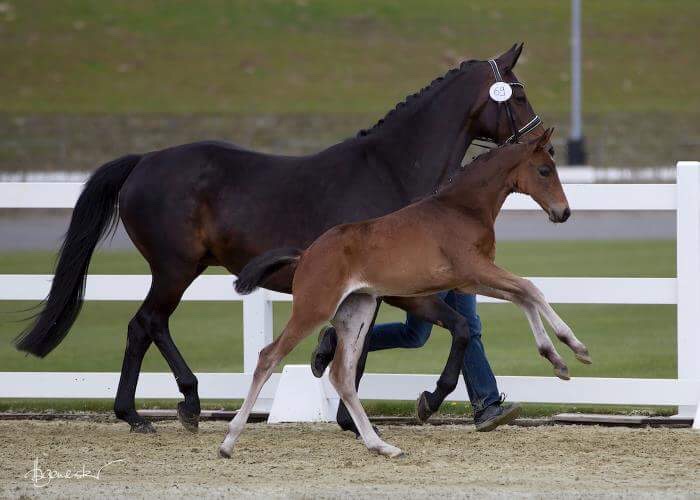 Sunday, 17 November 2019
• News from Gut Füchtel.
New crosses for 2020 online!
Details
The season 2019 is finished with weaning the last foals right now. Stables are filled again for the winter and pastures are empty now. This is the time we prepare for the new foaling season 2020. We diskussed and choosed new crosses for our proven and some new young broodmares. Come and see!
Just a few examples: Escolar from our Bundeschampionat successful mare High Heels by Damon Hill - Roadster, Bellissimo from Relaunch von San Amour-Don Schufro, Fidertanz by Revanche (Quattro -Dimaggio), Bonds and Rochelle by Dimaggio-Lord Liberty or So Unique and the new Brilliant ring mare Wellfare v. For Romance-Stedinger. Of course once more Floriscount, from a De Niro mare, and from Benicio daughter Be my Love.
A few young stallions are on the roaster too: V-Plus from Pape stud or champion stallions 2018 Global Player and Danciero from Schockemöhle and Helgstrand. Look inside and see more details about the new foaling season 2020!
Sunday, 13 October 2019
• News from Gut Füchtel.
Weaning season at Gut Füchtel!
Details
After a long and busy foaling season it is now time again to start weaning the first foals from the 2019 crop. Starting in September with our De Angelo filly from Rhapsodie Queen by De Niro who left to her new owners in the Netherlands we have now weaned six more during last week. High Heels filly by Don Martillo and the beautiful San Amour - Fürst Romancier filly of ZG Hackler & Hoffmann have to become independant now from their mothers as well as our top Floriscount - Quattro filly and the two colts by Escamillo - Donnerschwee and Floriscount - Benicio.
More will follow in a few weeks until our youngster school from 2019 is completet! It's a good time....!
Friday, 15 March 2019
• News about "Floriscount"
New Video online: Füchtels Floriscount OLD - just private!
Details
February 2019 was a very sunny, nearly sprimg month and so we started a new projekt with awesome photographer Kiki Beelitz.
We want to show you our star stallion "Floriscount" at home at Gut Füchtel, where he was born, raised up and started under saddle. In 2008 we showed him first time for licensing under saddle and after winning his performance test in autumn 2008 at Schlickau, he started his breeding career a well as his sport career. Finally now he is a star not only for us but world wide with top offsprings all around. Foal champions, premium broodmares, licensed stallions and super sport horses. He himself is successful up to GP with our daughter Patricia and of course we have alys some top offsprings here in our stable.
While he used to be at Böckmann stud in the breeding season from March to August he stays at home at Gut Füchtel usually the rest of the year. Here he is trained and of course he is alowed to "just be a horse" on pasture or paddock, or he takes a walk in the forest aside the bicycle with Clemens. No horse show stress, now stallion show just: Floriscount - privat 2019!
See all this and some awesome impressions from our place Gut Füchtel. I hope you like it and maybe we will see you here in our Cafe some day during the year! You are welcome !
---
We warmly welcome you at our new website Gut Füchtel! We are pleased to give you information around our horse breeding and training business as well as the Café & Bistro Gut Füchtel and the new established Guesthouse Gut Füchtel. You find some information about the history as well as about the team and of course we try to let you be part of the "news"! Enjoy yourself!
Gut Füchtel 2
49377 Vechta
Tel. +49 4441 921571
Fax +49 4441 921572
This email address is being protected from spambots. You need JavaScript enabled to view it.