Aktuelles
News from Gut Füchtel.
Monday, 21 December 2015
• News about "Floriscount"
Our stallion "Rey du Sol" with top result at his 30-days performance test Adelheidsdorf!!
Details
The black stallion "Rey du Sol" by "Roi du Soleil" and our Elite mare "Wellness" by Stedinger - De Niro - Furioso has received top scores at his 30 day performance test at Adelheidsdorf/Celle last week.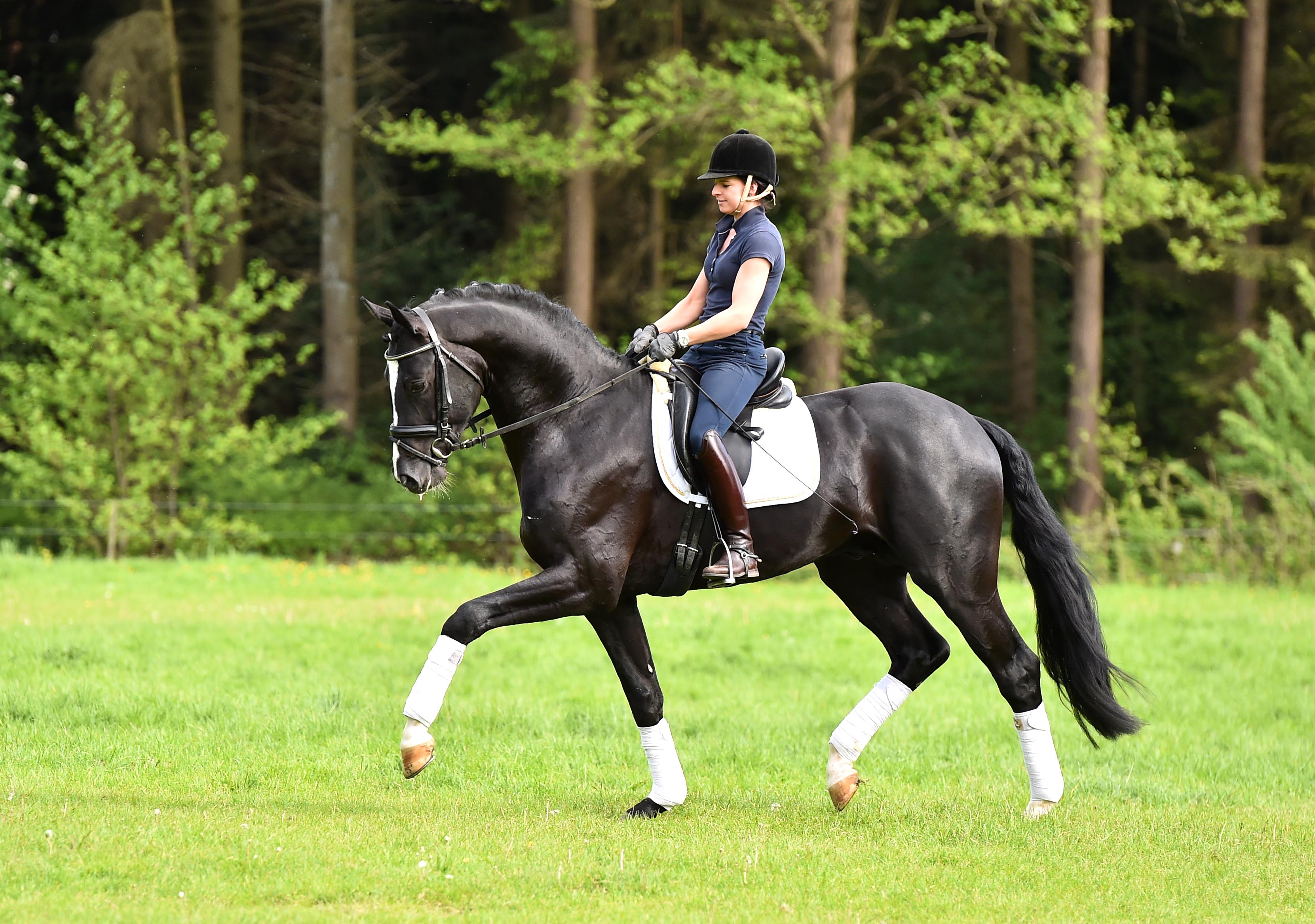 The beautiful, modern and long legged stallion, owned by Cristina Khamidoulin, Madrid, Spain and bred and trained here at Gut Füchtel received top scores between 8 and 9 for his three super gaits and two times a 9 from test riders for his rideability. He was second over all with a dressage score of 8,38 and a breeding value of 144 index points just behind the OL-champion Morricone. We are happy that we found a top stallion stud so he will be available for breeders in 2016 by Ludwig Kathmann stud (owner Martin Determann). You can get more information about this new stallion of your choice soon!
Monday, 26 October 2015
• News about "Floriscount"
Two more sons of "Floriscount" licensed at Verden!
Details
At the Hanoverian Licensing at Verden last weekend two more sons of "Floriscount became licensed for the Hanoverian Association. These modern and great moving typical sons showed once more the individual heritage that Flrosicount gives to his progeny.
At the following auction No. 36 by Floriscount - Don Schufro, bred by C. Mohr, Wismar, sold to the Celle State Stud after a long bidding for 105.000 Euro (see video here). The second very elastic Floriscount - Rubin Royal (video here) stallion was auctioned to a dressage stable at Frankfurt.
Congratulation to breeders and owners of these spectaular youngsters!
Friday, 12 June 2015
• News from Gut Füchtel.
a super colt by "Barroso" and SPS/Elite mare "Remember"
Details
Last wednesday the Elite mare Remember got a dark bay colt by "Barroso" ! A super beautiful, uphill and long legged little stallion with already extremely breathtaking gaits.
A big congratulation to Ann Kitchel in Vermont who is the breeder of this exceptional foal. Come and see!
Sunday, 03 May 2015
• News from Gut Füchtel.
a "Governor" filly is born!
Details
Yesterday evening our Elite mare "Ajoulie" by Showstar - Donnerhall, who is the only State Premium sister from Floriscount in Germany got her second foal this year: it is a long legged super nice but chestnut filly from the Dutch champion stallion "Governor", who is by Totilas and the sister of Parzival.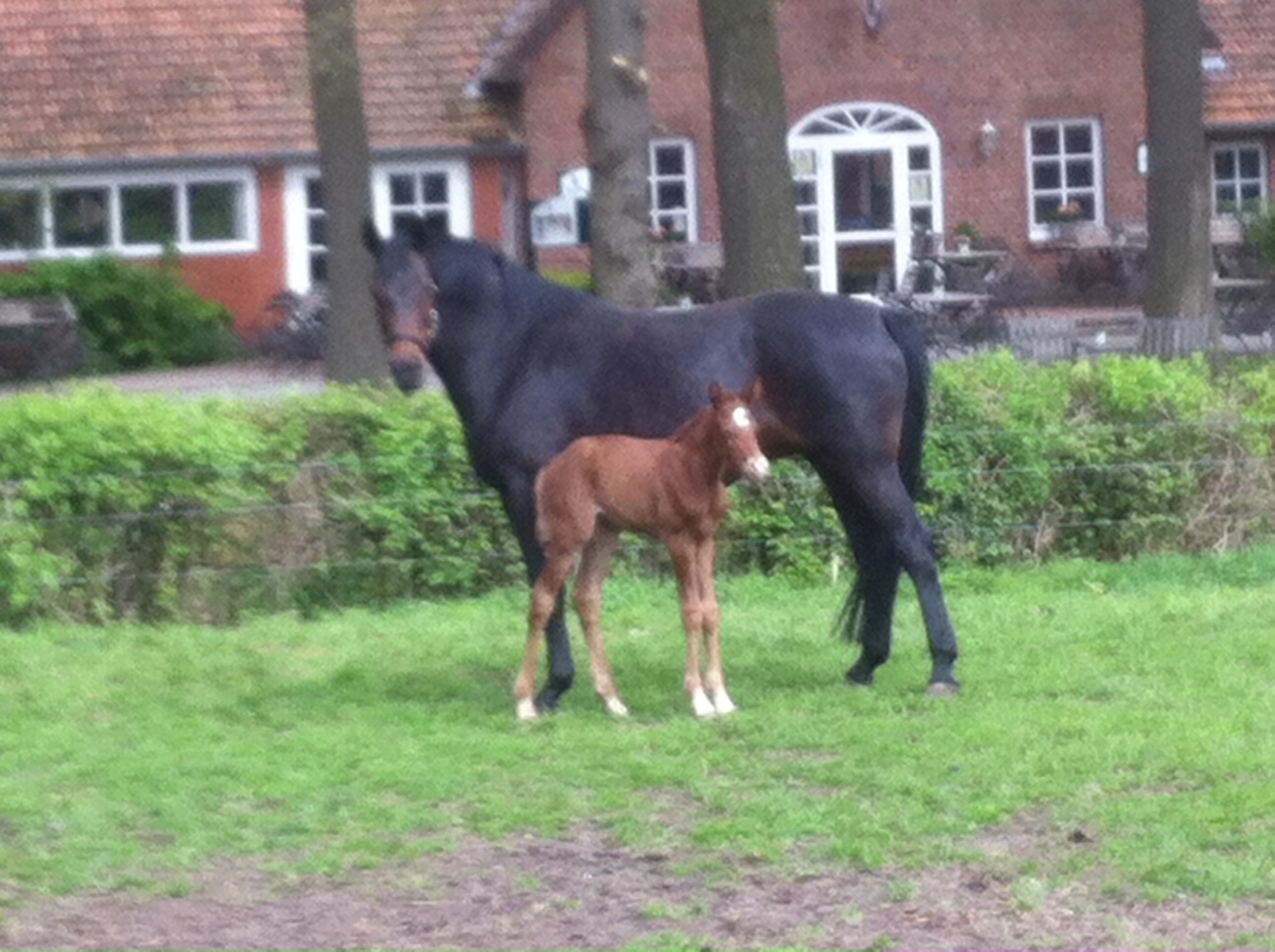 See her here on her first day outside with her elegant mother "Ajoulie" in front of our Cafe Gut Füchtel.
We are glad to have very interesting bloodlines in this filly and we are sure that we keep her here for our breeding program.
Thursday, 30 April 2015
• News from Gut Füchtel.
Three premium foals on last wednesday first OL foal inspection!
Details
Last wednesday, April 29th, the first foal inspection took place at Vechta auction center. We showed our stunning black filly by Elite mare "Ajoulie" and "Finest" and with her great presence and very good gaits. She received the Oldenburg premium award.
Our dark chestnut colt by our "Detroit" fullsister Elite mare "Rochelle" and "Follow Me" was really a little bit wild and cantered around the arena most of the time. But as everyone could see he is a super type and has all talents from his wellknown parents, so he got the "premium" too.
The last one was awarded premium and selected for the first Elite foal auction in June: she is a splendid filly by "Floriscount" and our top young State Premium mare "De la Croix" by Detroit - Sandro Hit. This black beauty is an unbeliveable good mover and we are now thinking about weather we should keep or sell her.
Anyway a great day for our first foals in 2015!
---
We warmly welcome you at our new website Gut Füchtel! We are pleased to give you information around our horse breeding and training business as well as the Café & Bistro Gut Füchtel and the new established Guesthouse Gut Füchtel. You find some information about the history as well as about the team and of course we try to let you be part of the "news"! Enjoy yourself!
Gut Füchtel 2
49377 Vechta
Tel. +49 4441 921571
Fax +49 4441 921572
This email address is being protected from spambots. You need JavaScript enabled to view it.