Aktuelles
News from Gut Füchtel.
Tuesday, 05 December 2017
• News from Gut Füchtel.
Gastfreund – the free app for our guests!
Details
With the agency "Gastfreund", we designed an app for our guesthouses Gut Füchtel and Gut Welpe. Via smartphone – or every other web-enabled device – it is now possible to easily access important and current information, offerings and recommendations all about your stay at our guesthouses.
Discover everything you need to kow:
café & bistro
our restaurant "Holla die Waldfee"
local restaurant recommendations
your next stay
To download the app, follow this link.
Thursday, 12 October 2017
• News from Gut Füchtel.
Our stallion by Grey Flanell selected for the Oldenburg stallion licensing!
Details
Our two year old dark bay stallion by Grey Flanell and Daytona by Donnerschwee - Wolkentanz is selected for the Oldenburg licensing show in November. Bred by Andrea this impressive colt always gets attention from everyone who comes into the stables. With super gaits, top confirmation and a great bloodline he convinced the selection judges this week.
Still a way to go but we are happy!
Saturday, 17 June 2017
• News about "Floriscount" and "Rey du Sol"
Rey du Sol wins his first FEI five year competition!
Details
Yesterday our stallion "Rey du Sol" showed for the first time in 2017 in the five year old classes in Osnabrück at the dressage meeting held there the second time after 2016. He showed wonderful with Richard (Pico) Hannöver and won the class with 84 % ! We had great fun as our second horse "Fürst Fidelio" by Fürstenball - Donnerschwee scored 83 % with Pico and finally finished on second place. Very impressive scores, go on boys!
Sunday, 11 June 2017
• News from Gut Füchtel.
Our three year old mares finshed the MPT successful!
Details
Last week we showed four mares at the Oldenburger mare performance test in Vechta. Three of our own mares did very well and received the Oldenburg premium award:
First was our stunning black mare "Renommee" by Floriscount - Hotline - Lord Liberty G who did very well and received the Main Premium award (former State Premium)! This exeellent type is super rideable and comes from our Rhapsodie mare line that produced not only the international, licensed stallion "Detroit" but also several Grand Prix horses. You see her here under saddle: SPS "Renommee" by Floriscount - Hotline
Second was our three year old Grey Flanell - Stedinger - De Niro mare called "Welcome". This very young black mare with excellent hind leg activity and uphill confirmation received the OL Premium award. She is sister of our licensed stallion "Rey du Sol"! See her here with our rider Lisa Marie Krüger,who did a top job with the youngsters, in Vechta: "Welcome" by Grey Flanell - Stedinger - De Niro.
Last of our own horses was the filly that we bought in 2014 at the Elite foal auction by Fürstenball - Donnerschwee - Lord Liberty G, from the same Rhapsodie mare line like Renommee, her name is "Regrette" and she is inseminated by young stallion "Secret". Here is she under saddle: "Regrette" by Fürstenball - Donnerschwee
Our clients mare "Sirii" by Scolari - Rubioso also received the premium award. Congratulations to her owner, she is now in foal to First Jazz!
Thursday, 13 April 2017
• News from Gut Füchtel.
Foals are on the ground!!
Details
The first foals are born and we are so pleased. The last days were very busy starting with our Elite mare "De la Croix" by Detroit, she got an outstanding chestnut colt by Floriscount on April 7th. Elite mare "Relaunch" by San Amour-Don Schufro, mother of last years OLdenburg dressage champion mare "Reagan" brought us a wonderful filly by Floriscount on April 8th. On April 10th in the early morning we got two foals! First was the embryo foal of our new Main Premium mare "High Heels" by Damon Hill with Floriscount. See her here with her wonderful recipient mare Gutajah. Next was our Elite mare "Rochelle" by Dimaggio. She got a colt by Vitalis the same day in the late evening. Four foals in three days! Just an amazing time we have.....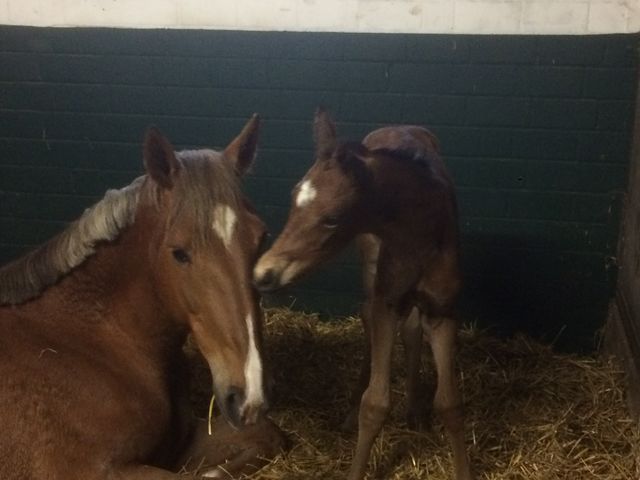 We warmly welcome you at our new website Gut Füchtel! We are pleased to give you information around our horse breeding and training business as well as the Café & Bistro Gut Füchtel and the new established Guesthouse Gut Füchtel. You find some information about the history as well as about the team and of course we try to let you be part of the "news"! Enjoy yourself!
Gut Füchtel 2
49377 Vechta
Tel. +49 4441 921571
Fax +49 4441 921572
This email address is being protected from spambots. You need JavaScript enabled to view it.